Emanuel Stance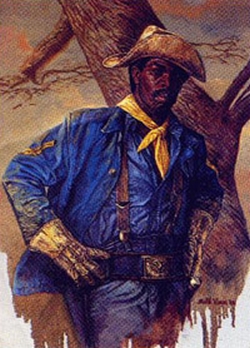 Emanuel Stance (1843 – December 25, 1887) was a Buffalo Soldier in the United States Army and a recipient of America's highest military decoration—the Medal of Honor—for his actions in the Indian Wars of the western United States.


At the time, Stance was serving as a Sergeant in Company F of the 9th Cavalry Regiment at Fort McKavett. On May 20, 1870, he was sent with a patrol to find the Apaches who had kidnapped Herman Lehmann and his younger brother, Willie, four days earlier. Stance and his men located the raiding party near Kickapoo Springs, about fourteen miles north of Fort McKavett, and opened fire. The Apaches abandoned their stolen horses and fled, enabling Willie Lehmann to escape during the chaos. For his bravery on this mission, Stance was cited for "[g]allantry on scout after Indians" and became the first African-American regular to receive the Medal of Honor a month later, on June 28, 1870.

Stance reached the rank of First Sergeant before being murdered on Christmas Eve in 1887. His body was found on the road to Crawford, Nebraska, with four bullet wounds; the probable victim of his own men. He was buried at Fort McPherson National Cemetery, Maxwell, Nebraska.








Medal of Honor Citation
Rank and organization: Sergeant, Company F, 9th U.S. Cavalry. Place and date: At Kickapoo Springs, Tex., 20 May 1870. Entered service at. ------. Birth: Carroll Parish, La. Date of issue: 28 June 1870.