Earl Lloyd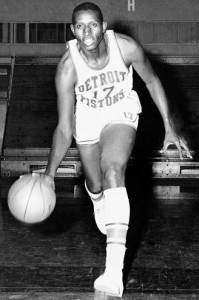 Earl Francis Lloyd (born April 3, 1928 in Alexandria, Virginia) is a retired American basketball player. He was the first African-American to play in the National Basketball Association, in the 1950-51 NBA season. Three other African Americans played in the same season: Chuck Cooper, Nathaniel Clifton, and Hank DeZonie.
Lloyd, a forward known for his defense, played collegiately at West Virginia State College, was selected in the ninth-round of the 1950 NBA Draft by the Washington Capitols. On October 31, 1950, Lloyd became the first African-American to play in an NBA game, against the Rochester Royals.
Lloyd led West Virginia State to two CIAA Conference and Tournament Championships in 1948 and 1949. He was named All-Conference three times (1948–50) and was All-American twice, as named by the Pittsburgh Courier (1949–50). As a senior, he averaged 14 points and 8 rebounds per game, while leading West Virginia State to a second place finish in the CIAA Conference and Tournament Championship. In 1947-48, West Virginia State was the only undefeated team in the United States.


NBA Career
Nicknamed "The Big Cat", Lloyd was one of three African-Americans to enter the NBA at the same time. It was only because of the order in which the teams' season openers fell that Lloyd was the first to actually play in a game in the NBA. The date was October 31, 1950, one day ahead of Cooper of the Boston Celtics and four days before Nat "Sweetwater" Clifton of the New York Knicks. Lloyd played in over 560 games in nine seasons, the 6-foot-5, 225-pound forward averaged 8.4 points and 6.4 rebounds per game.
Lloyd played in only seven games for the Washington Capitols before the team folded on January 9, 1951. He then went into the U.S. Army at Fort Sill, Oklahoma, before the Syracuse Nationals picked him up on waivers. He spent six seasons with Syracuse and two with the Detroit Pistons before retiring in 1960.
Lloyd retired ranked 43rd in career scoring with 4,682 points. His best year was 1955, when he averaged 10.2 points and 7.7 rebounds for Syracuse, which beat the Fort Wayne Pistons 4-3 for the NBA title. Lloyd and Jim Tucker were the first African-Americans to play on an NBA championship team.
Lloyd once said; "In 1950, basketball was like a babe in the woods; it didn't enjoy the notoriety that baseball enjoyed." Like Lloyd, Clifton and Cooper had solid but not spectacular careers.
According to Detroit News sportswriter Jerry Green, in 1965 Detroit Pistons General Manager Don Wattrick wanted to hire Lloyd as the team's head coach. It would have made Lloyd the first African-American head coach in American pro sports. Dave DeBusschere was instead named Pistons player–coach. From 1972 to 1973, Lloyd did coach the Pistons and was a scout for five seasons.
Personal
Lloyd and his wife, Charlita, have three sons, and four grandchildren. Earl currently resides in Fairfield Glade, Tennessee, just outside of Crossville, Tennessee.



Honors
In 2003, Lloyd was inducted to the Naismith Memorial Basketball Hall of Fame as a contributor.
Lloyd was named to the NAIA Silver and Golden Anniversary Teams.
On December 1, 2007, the newly-constructed basketball court at T. C. Williams High School in Lloyd's home town of Alexandria, Virginia, was named in his honor. Lloyd actually attended Parker-Gray High School, as Alexandria's schools were racially-segregated at the time. T.C. Williams—the subject of the motion picture Remember the Titans—was created as a combined, desegregated school two decades later.
In November 2009, Moonfixer: The Basketball Journey of Earl Lloyd, was released. Lloyd wrote this biography with Syracuse area writer, Sean Kirst.
Lloyd, 83, says with a laugh that those early days were a challenge, "but you've got challenges and then you got Jackie Robinson, right?"
Two other African-American players—Chuck Cooper of the Boston Celtics and Nat "Sweetwater" Clifton of the New York Knicks—quickly joined Lloyd in the NBA, and while they faced the racism that was common at the time, Lloyd remains in awe of his baseball counterpart. "When you tell a guy like Jackie Robinson that if somebody hits you, you can't hit him back, his stomach has to start churning," Lloyd says of Robinson's non-violence promise to Dodgers owner Branch Rickey. "I mean, this guy is so special, it's unbelievable."
A 6'6″ power forward, Lloyd grew up in Alexandria, Va., and attended West Virginia State College (now West Virginia State University), where he was nicknamed "Moonfixer" for his height. In 1948 and 1949, he helped to lead the school's basketball team to consecutive black college basketball tournament championships. The NCAA and NIT tournaments were still segregated at the time.
Lloyd played eight full seasons in the NBA—he missed almost all of two years for Army service during the Korean War—mostly for the Syracuse Nationals. He later coached for the Detroit Pistons, becoming the league's first black assistant coach and then one of its first black head coaches. He was inducted into the Hall of Fame in 2003. He's the last of the early black NBA pioneers still alive. I called him earlier this week to ask about his thoughts on his career as well as the importance of Jackie Robinson.
At the beginning of our conversation, Lloyd pointed out that he considered himself the second black player in the NBA, given that Chuck Cooper had been drafted in the second round while he had been picked in the ninth. His status as the first black player on the court, he said, was only due to a "scheduling quirk" that meant his team played before the others. His modesty extends to his first game in the NBA, played in Rochester, N.Y, which he calls "uneventful."
But Lloyd and the other early black players in the NBA endured many of the same things that Robinson did, including racial taunts from fans and being unable to stay in certain hotels or eat in many restaurants on the road. In the end, their determination cleared a path for all who would follow.